Weather Forecast
Weather for Cebu City

82F

85F

Mon

Tue

Light Rain Shower

Scattered T-Storms
We have 15 guests 0 members online
| | | |
| --- | --- | --- |
| | Today | 5700 |
| | Yesterday | 6936 |
| | This week | 12636 |
| | Last week | 15040 |
| | This month | 47985 |
| | Last month | 63450 |
| | All days | 2798511 |
---
Your IP: 66.249.69.5
Googlebot 2.1,
Today: Dec 22, 2014
Sunday, 07 December 2014 00:00
Baby abandoned then saved in Cebu during Ruby
The baby girl, born early Sunday morning, was supposedly 'found' at a church by a woman who later admitted to being the mother.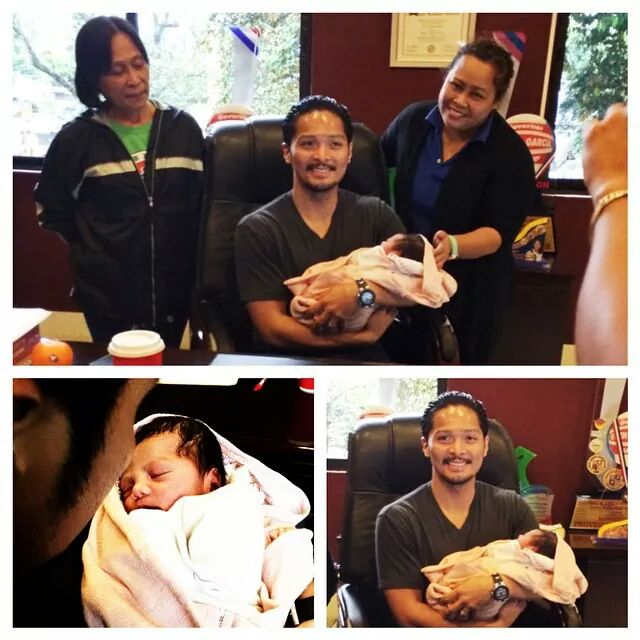 MANILA, Philippines – A newborn baby girl was rescued in the municipality of Liloan in Cebu province on Sunday, December 7, after her mother tried to drop her off at a church at the height of Typhoon Ruby (Hagupit).
In a phone interview with Rappler, Liloan Mayor Duke Frasco said a church caretaker brought the baby to the municipality's social welfare office. A woman had supposedly "found" the baby at the church at around 9 am.
But officials noticed that the woman was pale and was giving inconsistent answers to their questions. She then started to bleed, and later broke down and admitted that she was the mother, Frasco said.
"Apparently, the baby girl was born around 7 am today. [The mother] was planning to turn over the baby to one of the nuns," Frasco said.
Last Updated on Tuesday, 09 December 2014 13:28
Read more...
Tuesday, 04 November 2014 07:55

Duke, Vic and 50,000 others run New York

by: John Pages

DUKE FRASCO. The mayor from Liloan, Vincent Franco "Duke" Frasco, completed the NYC Marathon — his first 42-K. I received this email from the Liloan mayor:

"Hi John! It was extremely cold and windy! The wind made it even colder! In short, an amazing experience! My 21k was just a little over 2hrs so I was making good time. It wasn't until mile 20 that my legs started to cramp up and it was like that until the finish! I finished with a time of 4:38:35 – pretty good for my first marathon ever and since my target was 4:50-4:55. The crowd was incredible all the way from Brooklyn to Central Park! The 45min walk in the cold after the finish wasn't very nice – but, was just extremely happy that I did it and to represent Liloan, Cebu, and the Philippines. I ran from the start with a Philippine flag tucked in my shorts! I pulled it out and raised it for everyone to see in the last 100meters all the way to the finish! If I had a picture, I would hashtag it with #FilipinoPride! Hehe."

Last Updated on Wednesday, 26 November 2014 08:46
Read more...

Wednesday, 03 September 2014 12:04

Liloan intensifies advocacy to protect environment

by: MegaCebu2050





UPDATED!




Municipal Environment and Natural Resources Office of the Municipality of Liloan invited Mega Cebu for their Environment Month Launch last June 9, 2014.

en.wikipedia.org

The event's theme was, "Doing unlimited kindness to the environment for the current generation and the generations yet to come, a way of achieving a green and wholesome environment that nurtures."




Liloan's goal, vision and mission coincide with Mega Cebu's advocacy in terms of achieving a green and wholesome environment. In fact, Liloan is one of the municipalities that have shown much participation

in the awareness of preserving its environment.

Last Updated on Wednesday, 10 September 2014 08:39
Read more...

Championing the Purok

Friday, October 3, 2014

by Chrisley Ann Hinayas - (RAFI)

PROFILEChampioning the Purok

Name: Sergia L. Jumadla
Age: 57 years old
Birthday: February 24, 1957
Highest Educational Attainment: Elementary graduate
Hometown: Lataban, Liloan, Cebu
Name of Children: Cheryl (37), Karl Anthony (34), Keith (31), Kristian (28), Kenneth (25)
Biggest joy in life: Successful children
Motto in life: Always believe in God. He controls everything we do.




Sergia Jumadla is like the "big sister" to their small community in the town of Liloan, Cebu, where she leads and organizes more than 80 households.

The 57-year-old mother of five is the purok leader in Purok Pinya, Barangay Lataban, Liloan, where community volunteerism has led her to a path of helping address issues in their purok.

Read more...

Friday, 22 August 2014 14:39

Trail Running in Mulao, Liloan: Lost in Wonderland

by Armie Garde-the Warat Runner




I never thought getting myself into trail running until I tried it myself. When I did my first trail run in an ultramarathon last year, I was never satisfied. It was a 50 kilometer run and I made it to the top 10 but I felt that I missed something. I figured then that trail running is never just about mileage but the chance to experience nature's wonders.

The breathtaking and tough terrain in Mulao village in Liloan town, northern of Cebu, hosted the fifth leg of the Columbia Eco Trail Run last February 5. I joined and I didn't think twice. It was a sound decision to join the race, because I found not just real running adventure but a real remedy for boredom.

I also found an advocacy- eco-tourism – as the race was organized to expose runners to nature adventure as well as to promote eco-tourism in Cebu province.

Several weeks before the race, my twin and I, together with Markjeee and MikeO, attempted to run and trace the route of the Columbia Eco Trail in Mulao. It was almost an hour ride from Cebu City if I'm not mistaken. We arrived in the place around 6 a.m. and after asking around for last minute directions, off we went.

It started out right – after running on a paved road, we pounded the single track trail with my twin on the lead. We reached the peak of the first hill and there I found a wonderland surrounding me and Markjeee said it was called Mt. Lanigid. We stayed for a while and enjoyed God's natural gifts.

Last Updated on Wednesday, 10 September 2014 08:39
Read more...
«

Start

Prev

1

2345678910NextEnd »
Page 1 of 16